Newton Scientific Ductless Fume Hood
Fume hoods represent the primary line of defense for personnel from exposure to harmful, toxic and dangerous fumes or chemicals as they are produced.
Newton Scientific ductless fume hoods have been manufactured to provide the highest levels of safety for laboratory personnel.
Activated carbon filters are suitable for a range of chemicals. Please contact our distributors / offices to help, in doubts selecting a suitable filter.
Features:
Robust build
Aerodynamic front fascia
Industrial grade electrogalvanised steel construction
Heavy epoxy powder coated finish to withstand harsh laboratory environments
Light grey phenolic resin worktop
Dished epoxy resin worktop with high chemical and heat resistance, black
Purpose built light box external to airflow, preventing any corrosion and minimizing turbulence
Electronic light ballast for flicker free usage and user eye comfort
Counterbalanced sash assembly for years of trouble free use
Tempered safety glass with Easygrip® hand rail
Clear side panels for better visibility
Stainless steel airfoil designed to maximize air sweep of work surface
Dimensions, mm (LxWxH) Including base cabinet
Electrogalvanised steel with heavy epoxy powder coated finish
Phenolic resin, laboratory grade, light grey
ASHRAE 110-95 airflow requirements (0.5m/s +/- 20% as installed)
2 x Pre wired 13 Amp Switch socket outlets (BS)
Fan ON/OFF switc, Light ON/OFF switch
Epoxy powder coated steel construction Castor wheels (Optional)
0.5 m/s at 500mm sash height
1. Activated Carbon Filter & Pre Filte
2. External Light Box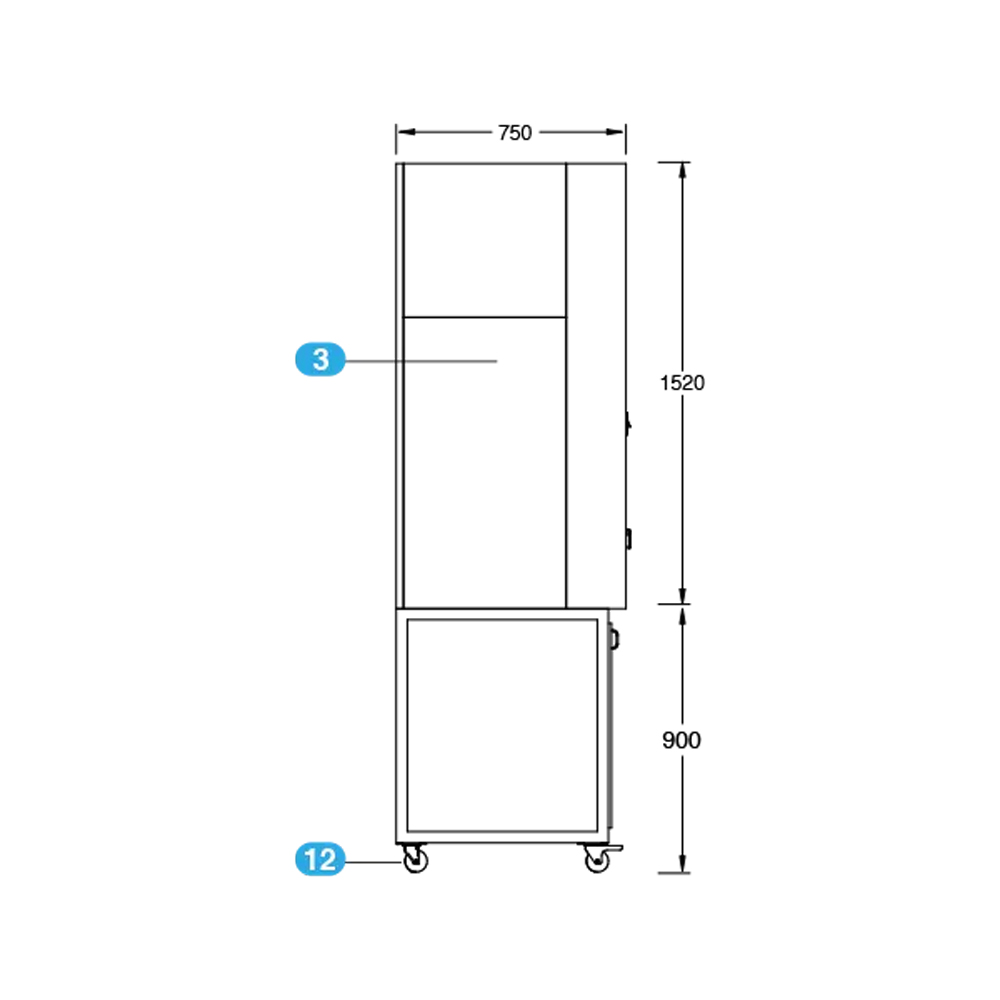 3. Acrylic Panels (Two Sides)
12. Castor Wheels (Optional)
1. Activated Carbon Filter & Pre Filter
4. Phenolic Worktop
5. Fume Hood Front Panel
6. Tempered Glass Sash
7. Light ON/OFF Switch
8. Fan ON/OFF Switch
9. Stainless Steel 304 Airfoil
10. Electrical Outlets
11. Metal Base Cabinet (Optional)
12. Castor Wheels (Optional)
Industrial Grade Electrogalvanised Steel (Standard)
SS 304
SS 316
Polypropylene
PVDF
Phenolic Resin (Standard)
SS 304
SS 316
Polypropylene
PVDF
Phenolic Resin (Standard)
Epoxy Resin, USA
SS 304
SS 316 L
Polypropylene
PVDF
Drip Cup
– Polypropylene (Optional)
Custom Sink
– SS 304
– SS 316
– Polypropylene (Hot Weld Construction)
Microprocessor Airflow Alarm
Digital Display with Alarm
Compressed Air (CA)
Oxygen (02)
Distilled Water (DI)
Vacumn (Vac)
Nitrogen (N2)
Cold Water
Ex proof lights
Ex proof Electrical Sockets
Ex proof on/off switch
Ex proof electrical junction box
*Please provide detail requirements*